Matthew Waterhouse Tour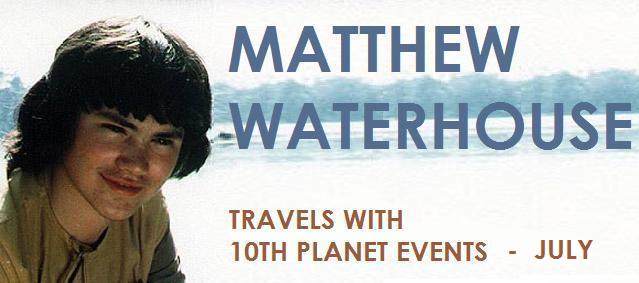 If you are unable to make the signing and would like to pre order signed pictures, or arrange for your personal items to be signed please

click here

to order and we will post your items out to you early the following week.

Saturday - 3rd July 2010 - 10.00am / 1.00pm

Arc Theatre First Floor, The Malthouse Studios, 62-76 Abbey Road, Barking, Essex IG11 7BT, 020 8594 1095

The Malthouse in Barking is a newly refurbished warehouse set in the heart of an ambitious creative industry regeneration scheme for East London. Situated on the river Roding, the local environment is visually rich in the industrial heritage of the East London river basin and canal network. It has excellent transport links being near the A13 and A406 North Circular junction, and Barking Station (mainline rail and District and Hammersmith & City underground lines) and is a 15-minute walk from the town centre.

Download Malthouse map and directions

Friday - 9th July 2010, 7.30 pm / 10.30 pm

Whoovers, Voice Box, Art Centre, Forman Street, Derby, DE1 1JQ

Friday 9th July - An evening with Matthew Waterhouse

Whoovers in association with

Tenth Planet Events

is proud to present 'An evening with Matthew Waterhouse'.

To Doctor Who fans Matthew will always be remembered as Adric, junoir maths genius and companion to both the Fourth and Fifth Doctors. For many years, Matthew has lived in the USA, and makes very few Doctor Who related appearances, so this is a very special opportunity for fans to meet him. Matthew's appearances at the Whoovers is part of a short tour to promote his Doctor Who Memoir and his two novels, Fates, Flowers and Vanitas all published by Hirst Books, which will be on sale on the night, and which we urge members and friends to buy. Entry will include two free autographs, with opportunities to purchase more from Tenth Planet Events.

Learn more about the roles Matthew has played at

www.imdb.com

As this is a 'special guest' meeting, please be aware that entrance is £5 waged or £3 unwaged.

Saturday - 10th July 2010, 12.00 noon / 2.00 pm

Matthew Waterhouse

Saturday 10 July 2010

MATTHEW WATERHOUSE who played Doctor Who companion ADRIC with the Fourth and Fifth Doctors joins us at GALAXY FOUR on the 10th July 2010 from 12 noon until 2pm to meet fans and sign autographs.

He will be promoting his new book DOCTOR WHO MEMOIRS which when purchased on the day will be signed at no extra cost.

Photographs will be also on sale for £10 each, autographs on personal items will also be charged at £10 per signature. Five signatures may be obtained for £40. Courtesy of 10th Planet Events Ltd. Appearance subject to work commitments

MATTHEW WATERHOUSE who played Doctor Who companion ADRIC with the Fourth and Fifth Doctors joins us at GALAXY FOUR on the 10th July 2010 from 12 noon until 2pm to meet fans and sign autographs.

Dr Who star Matthew Waterhouse who played Dr Who assistant Adric will be instore on Sunday 11th July. This is a rare UK signing appearance for Matthew who now lives in America

Adric travelled with the Doctor between Full Circle and Earthshock

Adric, a teenage boy with a gift - and badge - for mathematical excellence, was a member of a street gang on the planet Alzarius, along with his brother, Varsh. Adric, alone and hungry for adventure, stowed away in the TARDIS after Varsh sacrificed his life to save the Doctor and his friends.

Often frustrated by his clumsiness, and fiercely competitive, Adric struggled to find a useful role among the TARDIS crew. He ultimately gave up his life by remaining on board a spaceship that crashed into prehistoric Earth, causing the death of the dinosaurs.

The Videodrome, 47 Broad St, Worcester. WR1 3LR Telephone 01905 745301

Saturday 17th and Sunday 18th July 2010

-

London Film and Comic Con, Earls Court 2, London, SW59TA

Mathew will be appearing at Watersons - Yeovill

Saturday 24th July 2010 from 1.00 pm till 3.00 pm

Waterstone's Yeovil, 37a Middle Street
Yeovil BA20 1LG
01935 479 832

Weekend - 18th to 20th February 2011

Gallifrey, Los Angeles 2011

Autographs are charged at £10 each on the day of the signing, on a personal item or on a free photograph provided on the day. Buy four autographs get a fifth free, e.g buy eight autographs get two free etc.

All actors appear subject to work commitments - Disclaimer:

This event is an unofficial gathering for fans of the BBC TV series "Doctor Who". It is not endorsed by or affiliated in any way with The BBC, Russell T. Davies, or any other licensee. All images are used for promotional purposes only and no copyright or trademark infringement is intended. This website was set up to provide information about the event.